Tips for researchers
The ORCID record is where links to all your research information are accessible via your own unique profile – to be used wherever you need it. Here are a few things you can do right now to make your record more useful.
1. Check out our new UI and do a visibility check
If you're reading this, chances are you have an ORCID iD, but when was the last time you logged in? If it's been awhile, you may be surprised by all the changes we've made to both the My ORCID UI and to the types of data you can add to your record. Check out our Quick Tour video and sign in! If you haven't visited your ORCID record in a while, you may find that some of the visibility settings in your records data may be set to "Only me" as this used to be the default setting when adding new items to an ORCID record. You are in complete control of the visibility of each piece of data in your ORCID record. If discoverability is important to you in your work, check to see that your data is visible to "Everyone." Visibility settings are easily accessible in My ORCID, and you can edit them directly from the main interface.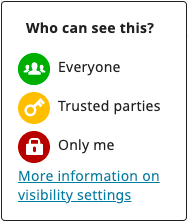 2. Create some connections
Many ORCID records were created by enthusiastic early adopters who could unfortunately derive limited immediate benefit from their records because we did not yet have many member organizations making connections with the ORCID registry via authenticated workflows. A lot has changed – we now have nearly 4,000 integrations across research and academic institutions, publishers, funders, and other service providers and more are being added all the time.
One way to allow your trusted organizations to link with and make updates to your record – so you can get credit for your work! – is by including your iD when you submit to publishers, apply for grants, or in any number of research workflows being continually added. Another way is to import data from integrated systems via any of the "Search & link" tools integrated into the Works and Funding sections of My ORCID. By linking your record with trusted organizations, the provenance of any data they add is also recorded and disclosed. This leads to what we call "trust markers" in your record, such as affiliations added by institutions, grants validated by funders, and publications validated by publishers. The more trust markers you have in your ORCID record, the more likely it is that anyone using the data in your record will have confidence that it is accurate.
3. Get to know the ORCID Inbox 
The ORCID Inbox is the messaging system in My ORCID. In it you can manage how and when you receive notifications from us about changes to your record, as well as announcements and service messages from ORCID. Access the Inbox when signed into My ORCID by clicking on your name at the top right corner, then clicking on Inbox. In the Inbox, you will find notifications about:
Account and record changes, such as updates made to your record by trusted organizations, requests to add works or other activities to your record, notifications about being made a trusted individual
New features and tips, sent around three to four times a year
Service messages related to or affecting your ORCID account, sent irregularly and which we are required to send
Learn more about the ORCID Inbox here.
4. Take advantage of auto-updates from Crossref
If you've never checked your ORCID Inbox, you may find there are some helpful notifications there, including one asking if you'd like to grant Crossref long-lasting permission to update your record automatically whenever a new work associated with your ORCID iD is found in their system – from any of their over 15,000 member publishers. 
Crossref is currently the only system which uses the ORCID Inbox to send auto-update requests. The request is sent to your ORCID Inbox after a publisher submits a new work to Crossref, as long as you provided your ORCID iD to the publisher on submission. If you do not want to grant permission to update your record with the new work, simply ignore the notification from Crossref. Learn more about granting permissions to trusted parties from your ORCID Inbox here and about the Crossref auto-update here.
5. Designate a trusted individual
Did you know you can grant permission to one or more trusted individuals to update your ORCID record? As simple as we work to make the My ORCID UI, some researchers may wish to delegate a proxy – a "trusted individual" – to help them edit information on it or make connections with external systems. A trusted individual does not need to be another researcher, but they must have their own ORCID iD. Find out more about "trusted individuals" here.